Welcome to the #1 Suzuki GR650 Tempter Website

My other Suzuki GR650 Tempter Twin Article "Tempted" as printed in
Motorcycle Classics Magazine and Vintage Japanese Motorcycle Journal.
---
2012 UPDATE
I sold my first Red X model Tempter,
upgraded to a 2007 Triumph Speedmaster cruiser for a year -
then to a 2008 Triumph Scrambler, which I rode for a few years (and loved - but sold).
BUT I've found a Tempter out in Kentucky I bought on eBay.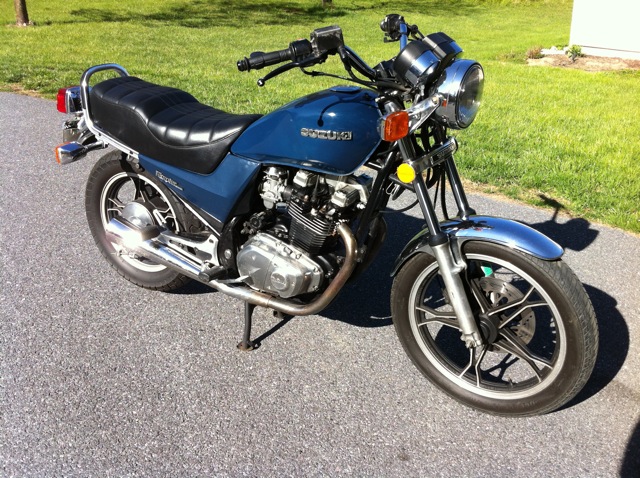 ---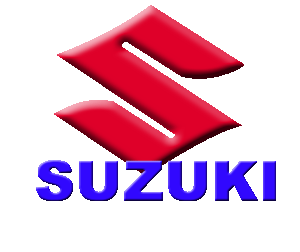 1983 GR650 X Model "Tempter" motorcycle.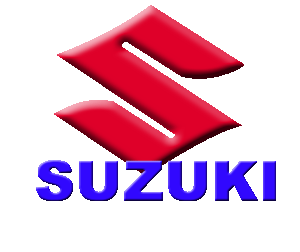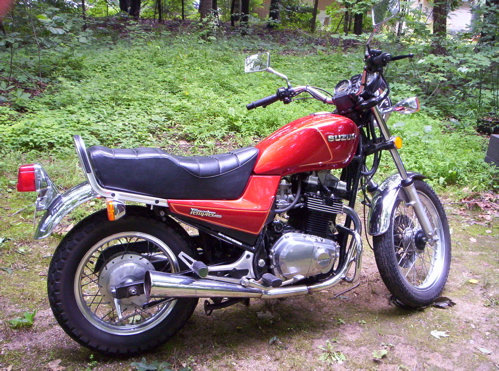 The Suzuki GR650, badged "Tempter" in the states, is a nicely balanced 650cc Vertical Twin, which at the time was Suzuki's answer to the British vertical twin cycles made by Triumph, Norton, BSA, etc. The big difference was the GR650 had been cleverly updated with better technology and reliability, including a unique floater single shock suspension.
Although It was produced from 1983 through 1989, it was only imported into the US for two years -1983 and 1984 - due to poor sales, mainly because the market for this type of bike had dried up, along with the severe recession that plagued the country at the time, (and maybe a lame name like "Tempter"). That makes it a rare bike you just don't see much on the roads here. I have yet to see another Tempter in person.
These bikes continued to be imported to Canada and other countries until the end of the production run in 1989. It is very popular in Europe, especially in the Netherlands. They seem to run for many miles if maintained. My X model has spoke wheels and standard forks, while the regular models included upgraded air forks, an auxiliary running front light, two tone paint and mag wheels.
---
Below is an original ad for my model bike.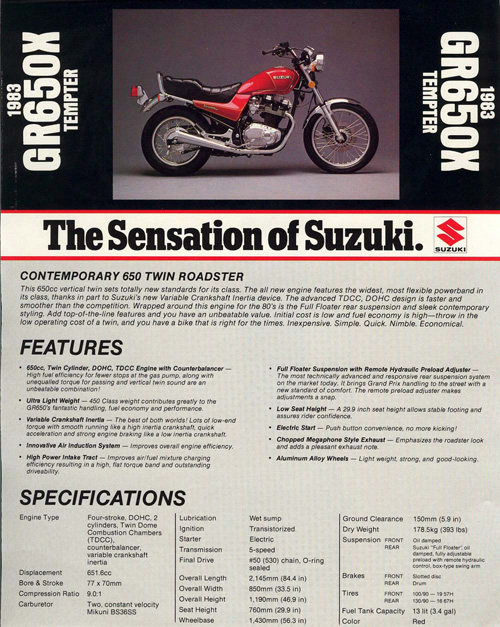 ---
My bike had just over 7500 miles on the odometer, but needed some work to get it road worthy. Yes that is a fuel guage in the tachomter, and it shows what gear your in as well as a neutral light. The bike needed a battery and oil change right away, but then came a big suprise...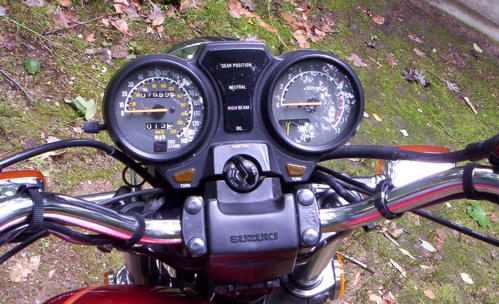 The gas tank had been "creamed" for rust some time prior, and now had big chunks of the stuff coming off and floating in the gas. I removed it all (what a mess!), and retreated the tank for rust. The fuel gauge vent needed to be re-assembled, as it was leaking from its vent line. I replaced all the gas lines and in-line fuel filter while I had the tank off the bike too. I checked out the air filter and suprise - it was misssing! An order to BikeBandit and presto, a brand new air filter was installed.
When I changed the engine oil and filter, I stripped the oil drain pan threads and the plug (doh!), so I had to get a whole setup - new oil pan and plug from , you guessed it, BikeBandit.com. Finding parts for these bikes is a real pain, but some parts are shared with the GS models. Otherwise eBay is a great resource for parts. I found an original shop manual for the bike on eBay which has been very useful. A set of highway pegs have been added to the crash bar on my bike - the only aftermarket accessory it came with. I've also had to replace the speedo cable (another bikebandit.com item for $18), and had the front tire re-balanced ($15 at the local cycle shop).
This winter I may remove the tank and side covers, smooth out the dings with bondo, sand, prime, and repaint everything a real deep Candy Apple Red. Right now it's a factory metal flake Maroon color with press on decals.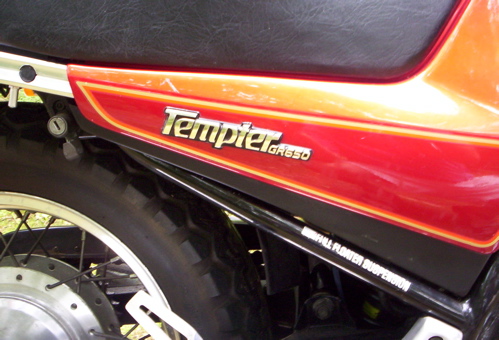 One of the most popular modifications to these bikes is the changing of the rear sprocket so the bike revs lower at high speeds. Someone had done this to my bike, but never put the chain guard back on. I found a guy parting out a Tempter on eBay and bought a used guard from him. PartsBandit had the right screws for that part as well.
Then is was just a major cleaning and polish job, inspection and tags and my bike was ready to ride. It's a sweet ride, with a nice range of power in the lower RPMs with it's variable crankshaft and some grunt when you rev it high. It's light and nimble on the twisty country roads but heavy enough on the highway that it feels solid. I've had it out on 200+ mile day trips and it's been great.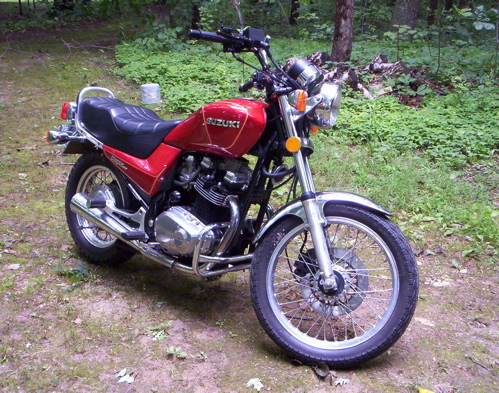 ---
Here's my latest modification - a sissybar backrest and luggage rack.
Since they don't make anything aftermarket for this bike, I bought this used sissy-bar backrest luggage rack unit off a 1975 Yamaha 650 motorcycle on eBay.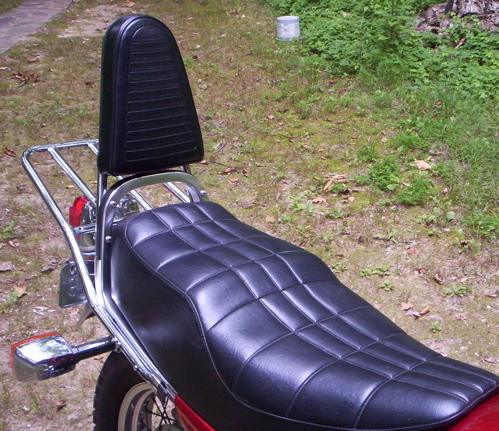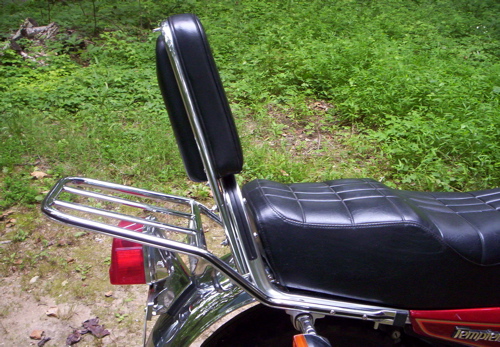 The key was to adapt the backrest and rack it could bolt into and through the existing grab rail securely. This was done with the use of a hacksaw, some gentle bending, and the drilling of 8 mounting holes. All the screws and bolts used are stainless steel.
I think it's solid and clean looking install. Best of all the backrest is adjustable by inserting washers between the rest's bars and grab rail bottom mounting bolts.
This gives the backrest just enough forward tilt so my wife was not leaning too far back, but upright and comfortable for cruising.
The best compliment so far was from the guy who sold me the rack/backrest,
who remarked "Wow - It looks like it was made for that bike!"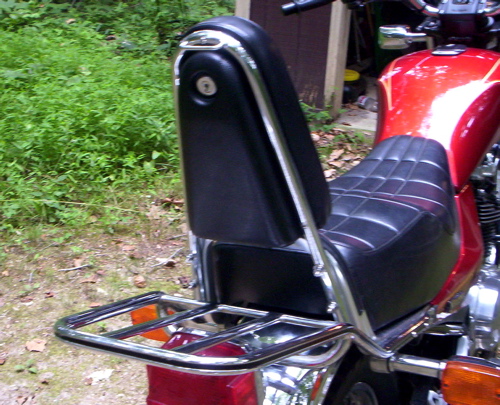 Having a rear luggage rack is real handy - and I've since aquired a red bungie net to secure items to the rack - a must! The lockable compartment is a nice feature to hold valuables as well.
"The greatest missed opportunity of the eighties goes to the Suzuki GR650 Tempter,
the only aircooled big twin the Japanese ever made that didn't
have to trundle along with an excess of mass."
Source: (http://www.custombike.org/bike_history.htm)
From Tempter Website: http://tcmcstuff.tripod.com/gr650.htm
Q. How can I reduce vibration at highway speeds?
Exchange the factory 15 tooth countershaft sprocket with a 16 tooth (Suzuki part number 27511-37200). Note that this sprocket was originally used on a mid-eighties Suzuki motocross model and is designed for #520 chain, rather than the GR650's standard #530 chain. That means it is slightly thinner than the original sprocket. My experience has shown no problems with excessive wear when used with the #530 chain. Since the sprocket is thinner than standard, you will need to add a washer between the sprocket and lock washer when installing. If you don't, the sprocket will remain loose on the countershaft splines even after you torque the sprocket nut. With the new 16/38 gearing, expect 4700 RPM at 65 MPH verses slightly over 5000 with the stock 15/38 sprockets - with no noticeable loss in performance or problems clutching off from a stop light. At 65-70 MPH, you will be below the point were engine vibration and valve train noise becomes an issue.
How come my battery won't stay charged?
Early Suzuki's had consistent charging problems, resulting in run-down batteries, short battery life, hard starting and frequent stator and regulator/rectifier replacement. Some of the problem is due to poor quantity or corroded electrical connectors, some to a poor ground to the regulator/rectifier and some just poor quality components or design. I've had pretty good luck electrically by keeping the connectors on the three stator wires clean and by running a heavy ground wire directly from the negative terminal of the battery to the regulator/rectifier mounting bolt. Still, be prepared to replace batteries, regulator/rectifiers and stators more often then you'd like. You might try sourcing components from Electrex rather than using factory replacements.
DAVE's NOTES: Keeping the battery on a charger will help the weak charging system. Replacing or rebuilding the stator and swapping out the R/R unit is well within a shade tree mechanic's skills.
Global GR Riders Forum at
Thanks for visting my web page, and PLEASE RIDE SAFELY!
(c) Copyright 2012, David Reiss.